Who is Mr John Kirkwood?
By Prince Apollo Nsansa
The Kamuswaga of the Kooki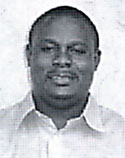 My father died in January 1986 and I joined St Charles Lwanga S.S.S., Kasasa in May 1986. Subsequently I dropped out of school at the end of first term 1987 as my widowed mother could not provide the school fees.
In May 1987 I was stuck at home, having failed to return to school, when I saw a familiar vehicle turn into our coumpound. Mr Kirkwood got out of it and told me to pack up and come as I was going to go back to school. I was overjoyed as my dream was to get my education. For the following three years Mrs Elizabeth Bruce, a friend of John Kirkwood, paid my fees. Even when I left St Charles Lwanga S.S.S., Mrs Elizabeth Bruce continued to help me. This sponsorship enabled me to take up my role as the Kamuswaga, and through this I was very pleased to be able to introduce Mr John Kirkwood to His Excellency the President in 1995.
I was not the only orphaned student at Kasasa who was assisted by this white man who came to live amongst us, and to help so many of us. I believe that he assisted over 60 students during his eight years there, and he has continued to assist needy students during his eight years in Jinja.
John's late mother, Janet Kirkwood, was a regular visitor to Uganda, and we could see where John's care for the disadvantaged came from, as Mrs Kirkwood was always bringing something out for someone here in Uganda, and making a difference in their lives.
During one of the visits I was fortunate to talk to Mrs Kirkwood and discover the following. John grew up in England on a farm that his parents owned, and during the holidays he used to help on the farm. He was the younger of his parents' two sons. He lost his father in 1974 and his brother in 1988. He trained as a civil engineer before moving to East Africa. I recall a couple of messages that his mother taught us at St Charles Lwanga S.S.S.. The first one was that "with privilege comes responsibility", hence those of us who have benefited from education are responsible for caring for those less fortunate than ourselves. The second message I learnt was that she and her husband had deliberately only had two children so that they could care and provide for them as well as they could afford. One of the main reasons she had the money to afford trips to Uganda was because they had been responsible in having only two children, and had been able to reinvest any profits from the farm to help it grow. She was then reaping the rewards of her hard work earlier in life.
John came to Uganda after having served as a volunteer teacher at the Starehe Boys Centre in Nairobi - a well-known school for disavantaged boys throughout Kenya. Many of the boys who go there work very hard and go onto university and become high flyers due to them using their natural ability and hard work and discipline. John served at Starehe for eleven years, during which time he became the housemaster of the biggest house in the school, and he was the assistant games master. He used to organize the interhouse athletics competitions during which Paul Ereng would take part. Paul eventually became the 800m gold medallist at the Olympic Games held at Seoul in Korea in 1988. John sponsored three boys through Starehe, and is still in constant touch with one of them.
When John returned in England in 1998 to care for his mother when she had terminal cancer, he registered the Tofta Educational Trust with the Charity Commissioners in England. Later the Tofta Educational Trust was registered as an N.G.O. in Uganda, and currently it is assisting about 160 disadvantaged students from both Uganda and Kenya to obtain their secondary and tertiary education.
After Mrs Kirkwood's death John returned to Uganda where he was the Principal of the Wairaka Institute of Technology - one of the positions he did not enjoy due to the lack of support from the owners of the Institute. He resigned from this position when his employers were unable to finance his work permit! Their loss was Uganda's gain, as soon afterwards there was talk of establishing his own educational institution through the sale of Mrs Kirkwood's house in England. I have followed the construction of the Lords Meade Vocational College with keen interest through my good friend, and fellow beneficiary of John's generosity, Peter Kalibbala.
I am delighted to write this piece about John as I feel that the Official Opening of the Lords Meade Vocational College is a major milestone not only in the school's history, but also in John's life, as he is seeing his dream come true. I see a long line of beneficiaries of this project, not only the disadvantaged students who will study here, but also the students whose parents are able to pay their fees. The Njeru community can only benefit, as can the Mukuno and Jinja Districts, and hence Uganda as a whole.
There is very little one can say when a stranger comes into one's life and plays such a major part. I knew at my father's death that I was then a cultural leader, and I really wondered what sort of leader I could become with only primary education. I am most grateful that John Kirkwood, through Mrs Elizabeth Bruce, managed to finance my secondary education and assist me to become what I am today. The two of them have changed my life, and the future of my people, the Kooki.