Make a difference!
Donate to the
Tofta Educational
Trust!

The Students
The following are a random sample of the students that Tofta Educational Trust (T.E.T.) is assisting at Lords Meade Vocational College (L.M.V.C.). Each of them has a heartrending story of why they need assistance to further their secondary education so that they may become useful members of their families and communities.
---
| | |
| --- | --- |
| Bovens Omonndi - a Kenyan TB Orphan from Homa Bay - Kenya- is currently being helped by T.E.T. to complete his O-Levels on top of providing him with quality medication. | |
---
| | |
| --- | --- |
| | Victor Turisingura - a single orphan from Kumi lost his father dad but did not give up on his dream: he is very practical in agriculture at A-level. T.E.T. is currently helping Victor realise his dream, and enabled him to obtain formal training in best agricultural practices at LMVC and beyond after his A-levels. |
---
Charles is a victim of polio. He is also an orphan whose guardian was not able to cope with his school fees for 'A' level. T.E.T. helped Charles to study in Jinja near his guardian, and enabled him to obtain a government scholarship to attend Makerere University. In 2006 he started his second year at Makerere.

The wheelchair - donated by the Rotary Club of Jinja - gives Charles a new lease of life. He is now the bursar at Gloryland Secondary School in Eastern Uganda.
---
Robinson's widowed mother sells locally brewed alcohol in a slum area of Jinja. She struggles to cater for her two children and could not afford school fees to further Robinson's education.

Robinson attends Mother Kevin S.S.S. in Jinja where T.E.T. has supported him for his 3 years in secondary education.
---
Francis is for Second year, Kyambogo University.

He lost both parents. His elderly grandmother cares for her 4 grandchildren by selling tea at a roadside market near Jinja.

T.E.T. sponsored him for his 2 year 'A' level course at L.M.V.C., where he did well and obtained a government sponsorship to do a Bachelor of Education in Sciences. He is currently in his second of three years. T.E.T. continues to support Francis with his accommodation during his university course.
---
Sharon comes from Western Uganda. Both of her parents died of HIV / AIDS.

Her aunt tries to assist her when she can, but she has her own family to cater for.

T.E.T. has assisted Sharon for her secondary education.
---
Richard Nyeko studeid his O & A-Levels at Mother Kevin Senior Secondary School, Jinja where T.E.T. supported him for his 3 years in secondary education.

He comes from Northern Uganda where his parents died in an attack by the Lord's Resistance Army (L.R.A.) in leaving Richard and his 3 siblings to be cared for by their grandmother who brews 'local gin in the slums of Jinja.
---
Geoffrey's uncle wanted him to herd cows - but Geoffrey, an AIDS orphan from Western Kenya, was determined to further his education. He was a top student in Senior 5 having done well in his UNEB 'O' levels, and he is well on his way to achieving his ambition of becoming a Doctor so that he can help other people. At LMVC he was active in class, on the sports field and in agriculture where he has his own garden where he grows vegetables for the school.

He's currently studying for a Diploma in Dentistry at Mulago School of Paramedics.
---
Angela, an AIDS orphan, was raised by her aunt, a widow, who had her own family to take care of. Angela did well in her Primary Leaving Exams (P.L.E.), but her aunt could not afford to pay for her secondary fees, so she approached T.E.T.

In 2006 (November) Angela completed her Senior 4, and sat for her UNEB 'O' Levels at L.M.V.C.
---
Deo, who lost his father to AIDS, comes from a very poor rural area, where he had to dig to raise money to cater for both his fees and food for his sick mother and siblings.

He has worked hard in 2005 and achieved good 'A' level results which will enable him to join a tertiary education institution and hence ensure a better future for himself and his family.

He used to dig in the gardens to provide food for his fellow students so as to show his appreciation for his assistance.
---
Moses, like Geoffrey, is an AIDS orphan from Western Kenya. He works hard in class and is ever grateful for the chance that he has been offered to further his education. He visits his elderly grandmother once a year during the Christmas holiday. He is active in his class work and also in his garden. He often talks of his friends at his home who have been 'put onto the human refuse pile' as they cannot further their education.

He joined Senior 5 in 2006 as he had worked hard and achieved good results in his UNEB 'O' levels.
---
A small sample of Tofta's successes:
"Excuse me, sir, I have come to say good-bye"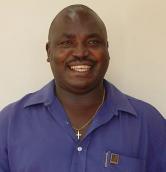 Peter was in Senior 2 - aged 15 - and was fighting back tears as he came to bid farewell to his teacher, as his father could no longer manage to pay his school fees. Peter wept openly as he discussed his situation with John as his dream was to obtain his education and elevate himself and his family out of the poverty they were currently in - yet he was facing being forced to return to his home in the rural village and leading the life of a semi-literate person.
Peter was the first student to benefit from the founder's ideal of assisting disadvantaged youth to obtain education to enable them to have meaningful lives.
Peter's mother died in 1988, and his father in 1990 - both from HIV / AIDS.
Now Peter is the head of the family of 14 siblings, and he uses his salary to educate 5 of his siblings - as all the mothers have also died of HIV / AIDS.
Peter is now a director of the Tofta Educational Trust as well as being the Field Officer for the Trust. He is also a director at Lords Meade Vocational College, and he is a Past President of the Rotaract Club of Jinja.
Peter got married in 2005 and now he and his wife, Ruth, have a baby, Joshua.
He is currently an active member of the Rotary Club of Jinja
---